Fort Langley Art Show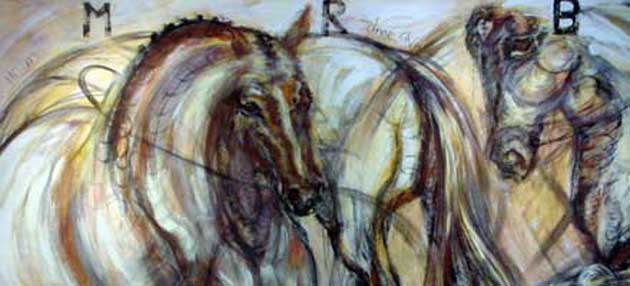 The horses come galloping towards you, in full movement, or so it seems to me, this novice in the world of horses and dressage. Dorothy is with me as we inspect this daunting painting. One cannot take it all in, in one glance.
I had missed the point, but my friend has had experience with horses. She educates me on the esoteric symbols – the letters that refer to various positions in the arena, the written words that are instructions that the judges call out and the various tests of a horse's ability to go through the paces of Test 2. The judges box is off to the far left hand side.

All these things enhance my enjoyment of this large work of art; but without this knowledge, I would still have found this an amazing work first off, because Susan Falk manages to draw the horses in paint with such energy and motion as if she had been able to paint it in sweeping movements; and then because the images are so big that it is a tough task to keep the animals in proportion and anatomically believable; and lastly because the concept of a large figurative work like this must be planned and ordered in advance to produce a piece with workable composition and meaning.
I was tempted by the post card invitation to see this show, but I was not ready for the impact of this particular work. There is no comparison between photographic reproductions and the real thing!
There is a series of smaller mixed media drawings 8 x 10 inches and 11 x 13 inches, more attuned with Falk's usual style. These, too, are lively and dynamic.
Susan Falk has been training with her horse at Rosewyn Stables in Langley with coach Monique Fraser. She takes the opportunity to photograph and draw many of the horses and riders while she is there.
In part, this exhibition is a fund raise to support the Valley Therapeutic Equestrian Association. Posters of Falk's work are available for $20.00 and all the proceeds from these posters will go the VTEA!
The show is on until April 25, 2011.
The Fort Gallery is at 9048 Glover Road, Fort Langley, B.C.. open Tuesdays to Sunday from 10 to 5 p.m.