exhibitions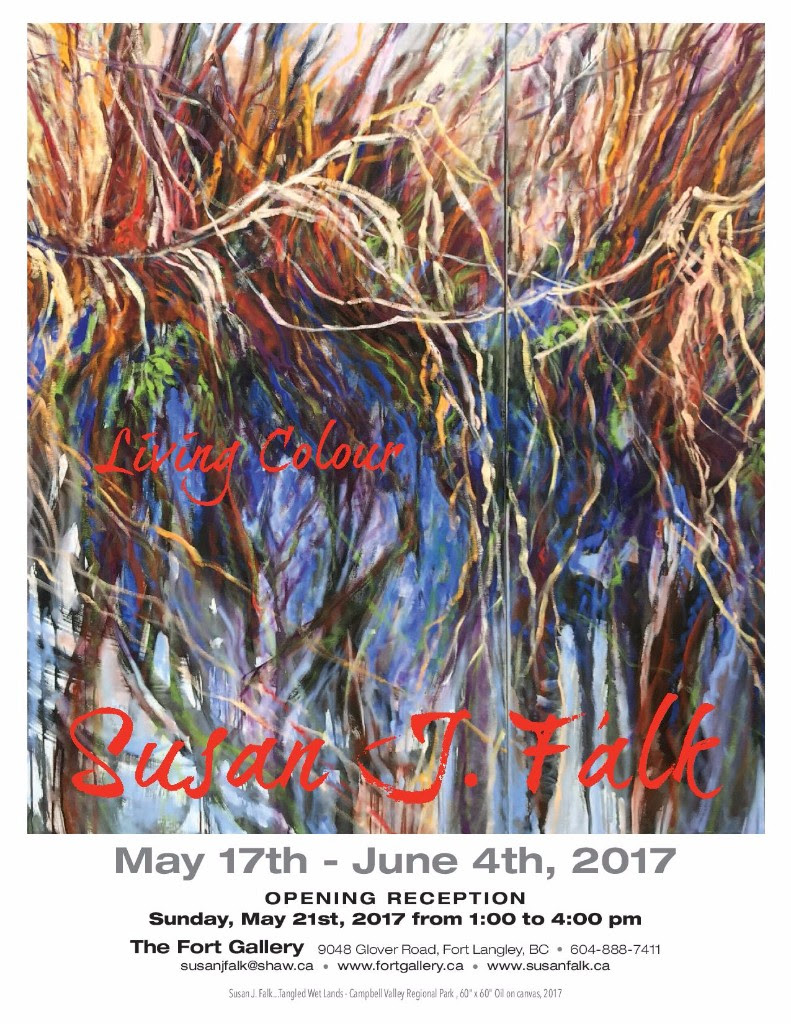 Tangles, foliage, figures + riots of colour.
Susan J. Falk's exhibition Living Colour, held at The Fort Gallery May 17-June 4, showcases her trademark colourist strokes. Working primarily in a pure colour palette using oil paint, her landscapes bring the viewer into the world of a walk the artist took while visiting Campbell Valley Regional Park in South Langley – an entangled mass of water, multi-coloured foliage and brambles. Also joining this colour fest are Falk's figurative works with models artfully arranged ,clothed and unclothed, drenched in colour.
The opening reception for this breathtaking new exhibit will be held Sunday, May 21st, 1-4pm. Falk will speak about her work at our June First Thursday event, June 1st, 7-9pm.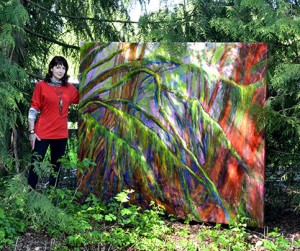 Susan recently received the 2013 Langley Environmental Hero Award in the Individual Category for keeping local residents and others aware of the need to protect Mclellan Forest East, Langley's public land old growth forest in Glen Valley. Susan conceived of a plan to collaborate with poets to produce a series of paintings that depicted scenes of the forest echoed in the words of the poets. The result was a series of 12 paintings from the poems of 12 poets. All paintings were successfully bid on through silent auction at The Fort Gallery resulting in a sold out show to benefit the non-profit group Watchers of Langley Forests (WOLF) in their efforts to save the forest and gain further recognition for their efforts to do so.
NEW EXHIBITIONS:
Living Colour
May 17th – June 4th, 2017
Opening Reception: Sunday, May 21st, 1 – 4pm
Fort Gallery, Fort Langley, B.C.
Previous Exhibitions

"Transition"
August 31st – September 18th, 2016
The Fort Gallery
"RED  –  Circle of Life"
September 8 – October 6, 2015
The Turnbull Gallery
Semiahmoo Arts – South Surrey Arts Centre
View the Circle of Life Poster
Visual Stories
June 24th – July 12th, 2015
Artist talk: July 2nd, 7 – 9 pm
The Fort Gallery, Fort Langley, B.c.
Meguru Inochi – Red Circle of Life
May 8th – 17th, 2015
Art Forum JARFO
JARFO Museum of Kyoto
Kyoto City, Japan
Selected Solo Exhibitions
Fort Gallery, Fort Langley, B.C. 2013
"Written in the Forest"
Fort Gallery, Fort Langley, B.C. 2011
New work: Ride
Fort Gallery, Fort Langley, B.C. 2010
New work: Equine Persuasion
Community Arts Council of White Rock, White Rock, B.C. 2010
"Implications of Runway"
Fort Gallery, Fort Langley, B.C. 2007
New work, Boreal Threshold, Water.
Fort Gallery, Fort Langley, B.C. 2006
Boreal Threshold
Marilyn S. Mylrea Gallery, Vancouver, B.C. 2005
Boreal Forest
Pendulum Gallery, Vancouver, BC. 2002
FALK – The one named Susan – Colour Currents
Two Person Shows
Fort Gallery, Fort Langley, B.C. 2012
"Up Close and Personal – Back to the garden"
Fort Gallery, Fort Langley, B.C. 2009
"…between here and there…project prehistoric runway"
Fort Gallery, Fort Langley, B.C. 2008
"Ridge"
Selected Group Exhibitions
Langley Centennial Museum and Exhibition Centre, Langley, B.C. "Figure and Ground" 2013 – 2014
Langley Centennial Museum and Exhibition Centre, Langley, B.C. "Exploration, interpretation, evolution: artists journey" 2007
Marilyn S. Mylrea Gallery, Vancouver, B.C. 2007
Marilyn S. Mylrea Gallery, " Silent Glory", 2006
Delta Firehall Centre for the Arts, "G10 Group" 2006
West Wind Gallery, Langley, BC. 2005
Langley Centennial Museum and Exhibition Centre, Langley, BC. 2005
Elissa Cristall Gallery, Vancouver, BC. 2004
Langley Centennial Museum and National Exhibition Centre, Langley, BC. 2003
N.A.S. Gallery, White Rock, BC. 2003
White Rock Arts Council, White Rock, BC. 2003
Fraser River Gallery, Fort Langley, BC. 2001
Fraser River Gallery, Fort Langley, BC. 2000
Surrey Art Gallery, Surrey, BC. Art's 2000
Langley Centennial Museum and National Exhibition Centre, Langley, BC. 2000
Surrey Art Gallery, Art's 99, Art's 98, Art's 96